Quality control is a vital part of the process. Without it, you never know what you have got. Here is how NMR can help. NMR is used widely in the pharmaceutical and medical industry for quality control, research and development.
Use Our NMR service for all your NMR needs.
Detecting impurities
1H NMR is a good way to detect and quantify residual solvents such as methanol, DMF, and petroleum ether in your product. Routine 1H NMR quantifies the impurity to a relative accuracy of 10%. If you need a relative accuracy of 1% ask for a special quantitative experiment.
Fig. 1. Spectrum showing a methanol impurity
Solvents such as petroleum ether, DMF, methanol, ethanol and dioxane are routinely detected by this method. Integration is used to measure the amount of impurity. How does this work? In the above example (fig. 1) the integral of the product is normalized to one per proton (NMR jargon for hydrogen atom) in the product. By comparison, the integral of the methanol signal is 1.41% of this but, since it corresponds to three methyl protons, it indicates a molar methanol concentration of 0.47% relative to that of the main product. The table gives chemical shifts of the more common solvent impurities (for further data see H. E. Gottleib, et al., J. Org. Chem., 62, 7512 (1997)).
Table: Chemical shifts (ppm) of trace solvents
| Trace solvent | in CDCl3 | in D2O | in DMSO-d6 |
| --- | --- | --- | --- |
| Acetic acid | 2.10 | 2.08 | 1.91 |
| Acetone | 2.17 | 2.22 | 2.09 |
| Cyclohexane | 1.43 | | 1.40 |
| Dioxane | 3.71 | 3.75 | 3.57 |
| DMF | 2.88, 2.96, 8.02 | 2.85, 3.01, 7.92 | 2.73, 2.89, 7.95 |
| Ethanol | 1.25, 3.72 | 1.17, 3.65 | 1.06, 3.44 |
| Methanol | 3.49 | 3.34 | 3.16 |
| Pet. ether | 0.88-1.26 | | 0.89-1.25 |
Small quantities of compounds similar to the product molecule usually stand out in the NMR spectrum. This makes NMR a much better than HPLC for detecting such side products. Fig. 2 shows the application of this method to detect trace chlorination of ethylbenzene by chloroform.
Fig. 2. Spectrum showing impurities in ethylbenzene
Enantiomeric (optical) purity
Fig. 3. Enantiomers are molecules that are mirror images of each other
NMR cannot detect pure enantiomers but can separate diasteriomers. If there is more than one chiral center in your molecule then more than one species may be detected. Take the example of two chiral centers. There will be four optical isomers: RR, RS, SR and SS. Of these, RR is a pure enantiomer of SS and RS is a pure enantiomer of SS. However RS and SR are diasteriomers of RR and SS and yield different spectra. As a result, two sets of signals will appear in the NMR spectrum if all four optical isomers are present.
Fig. 4. Diasteriomers arising from two chiral centers that are not mirror images of each other
If there is only one chiral center then the optical isomers are pure enantiomers and will only yield one set of signals. In order to separate them, one can add a chiral complexing agent such as cyclodextrin that will create a complex with two chiral centers converting the enantiomers in the sample into diasteriomers and yielding two sets of peaks. This can be used to determine whether the sample is a racemic mixture as in fig. 5 or a pure enantiomer.
Fig. 5. Splitting of an NMR signal by formation of diasteriomers upon addition of cyclodextrin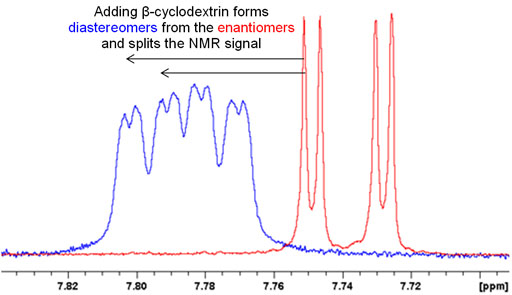 Isotopic purity
NMR comes into its own when detecting isotopic substitutions. If you are working with specific isotopic substitution then NMR is your method of choice for quality control. In the example below, the methyl signal has disappeared from the 1H spectrum and appears in the 2H spectrum. This can also be used to detect other isotopic substitutions: 13C, 15N, etc.
Fig. 6. Spectra showing successful specific deuteration